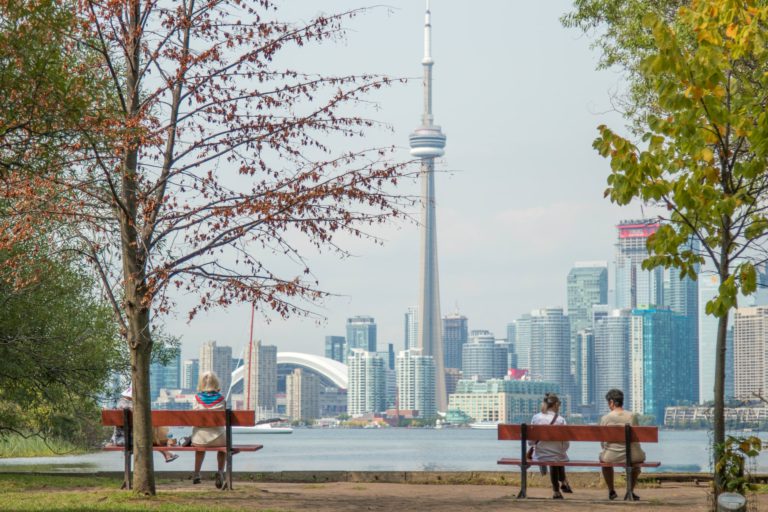 November 4th 2022 – On November 1st, Immigrations, Refugees and Citizenship Canada (IRCC) released its Immigration Level Plans for 2023-2025, as part of its Annual Report to Parliament.
These new figures show that the Canadian government aims to admit a total of 1.45 million new immigrants over the next three years – 465,000 in 2023, 485,000 in 2024, and 500,000 in 2025.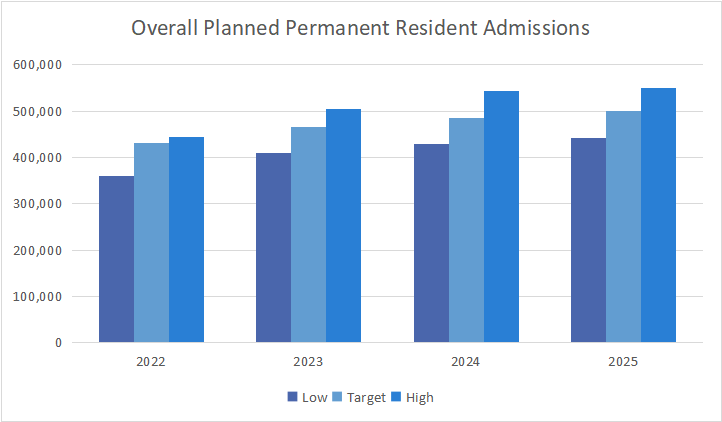 This represents a significant upwards revision of the targets previously set in the 2022-2024 plan, which initially only aimed for 447,055 new permanent residents in 2023 and 451,000 in 2024.
This increase in the admission of new permanent residents is in line with the government's objective to boost immigration levels to address Canada's tight job market.
"Last year, we welcomed the most newcomers in a single year in our history. This year's immigration levels plan will help businesses find the workers they need, set Canada on a path that will contribute to our long-term success, and allow us to make good on key commitments to vulnerable people fleeing violence, war and persecution." said Mr. Sean Fraser, Minister of Immigration, Refugees and Citizenship, in a statement accompanying the release.
While immigration levels are set to rise across a wide range of programs, one of the most notable increases is in the Federal Business Class, which includes both the Start-Up Visa Program (SUV) and the Self-employed Persons Program. The number of new permanent residence visas granted under this category is set to grow sixfold – from 1,000 in 2022 to 6,000 in 2025.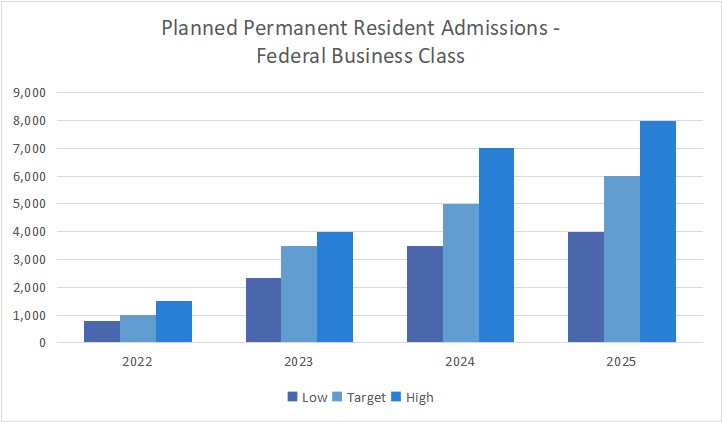 This huge increase underscores the success and continuous growth of the Start-Up Visa program over the last few years and seems to indicate the Canadian government's intention to continue the expansion of the business visa class.
About Mandeville & Associates Ltd.
Since 1986, Mandeville & Associates has been offering consulting services intended for international business people of every continent wishing to settle in the United States of America, Canada, and Europe.
With its head office in Hong Kong and professionals permanently based in the United Kingdom and Canada, Mandeville & Associates offers a wide range of immigration and consultancy services with a team of specialized lawyers and multilingual immigration experts. Business migration programs such as the immigrant investor program, start-up visa program, and other residency-by-investment programs, allow the successful applicant, spouse, and dependent children to obtain a residency visa.
Mandeville & Associates provides specialized services to professionals, business incubators, brokers, and immigration consultants recruiting candidates for immigration to the United States of America, Canada, and Europe through business migration programs.