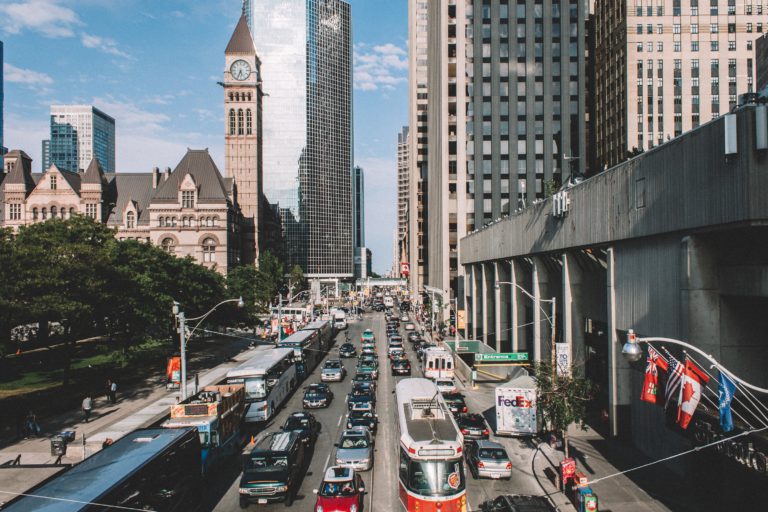 November 3rd 2023 – On November 1st, The Honourable Marc Miller, Canada's Minister of Immigration, Refugees and Citizenship (IRCC), presented the Immigration Levels Plan for 2024-2026, which lays out Canada's immigration targets for the next three years.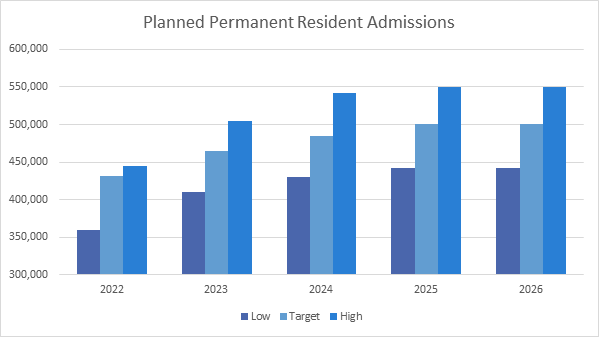 This new plan sets out the government's expectation to welcome 485,000 in 2024 and 500,000 in 2025 and 2026, up from 465,000 in 2023. The new targets released for 2026 reflect IRCC's intention to stabilize the number of new permanent residents each year at 500,000, following an important increase over the last few years.
"Today's Immigration Levels Plan for 2024-2026, sets out our targets for immigration over the next three years. By stabilizing the number of newcomers, we recognize that housing, infrastructure planning, and sustainable population growth need to be properly taken into account. Through this plan, we are striking the appropriate balance to grow Canada's economy, while maintaining our humanitarian tradition, supporting Francophone immigration, and developing a more collaborative approach to levels planning with our partners. Canada will continue to welcome newcomers and ensure that they are supported in their new lives.", said Mr. Miller in a news release accompanying the plan.
The proportion of new permanent residents admitted under Economic categories has been increasing steadily over the last few years and will reach 60% of all new immigrants by 2026. Economic categories include skilled worker programs, economic pilot programs, and provincial nominee programs, as well as the Federal Business class.
The Federal Business Class, which includes the popular Start-up Visa Program and the Self-employed Persons Program, will continue to admit a large number of applicants, with targets of 5,000 in 2024 and 6,000 in 2025 and 2026. This is a large leap from previous years, considering that this target was only 1,000 in 2022. This significant increase reflects IRCC's ongoing commitment to grow the reach of the Start-up Visa Program and to continue to welcome large numbers of Start-up founders to Canada.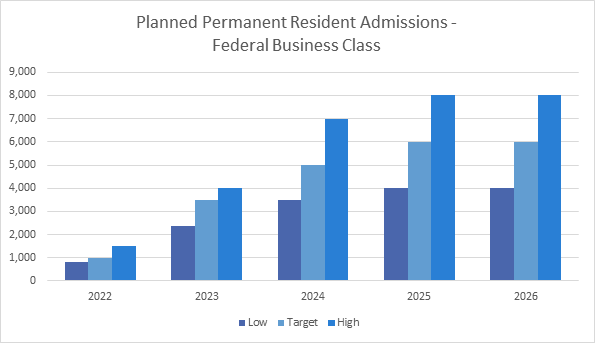 About Mandeville & Associates Ltd.
Since 1986, Mandeville & Associates has been offering consulting services intended for international business people of every continent wishing to settle in the United States of America, Canada, and Europe.
With its head office in Hong Kong and professionals permanently based in the United Kingdom and Canada, Mandeville & Associates offers a wide range of immigration and consultancy services with a team of specialized lawyers and multilingual immigration experts. Business migration programs such as the immigrant investor program, start-up visa program, and other residency-by-investment programs, allow the successful applicant, spouse, and dependent children to obtain a residency visa.
Mandeville & Associates provides specialized services to professionals, business incubators, brokers, and immigration consultants recruiting candidates for immigration to the United States of America, Canada, and Europe through business migration programs.